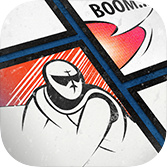 Comic Connect
Community Guidelines
We want this to be a fun safe place for comic enthusiasts to meet, share their comics and get appreciation and support from fans. We don't want to be the library, but we also don't want it to be YouTube! Be nice.
Don't cross the line
Here are some simple guides to what shouldn't be contributed to our community. Remember it's never a good idea to post in anger or frustration. Sometime the best thing to post is nothing. So remember to take a breath before submitting!
Nudity or sexual content
Comic Connect is not for pornography or sexually explicit content. If this describes your comic, don't post it on Comic Connect.
Violent or graphic content
While we all love an action oriented comic it's not okay to post violent or gory content that's primarily intended to be shocking, sensational, or disrespectful.
Hateful content
Our products are platforms for free expression. But we don't support content that promotes or condones violence against individuals or groups based on race or ethnic origin, religion, disability, gender, age, nationality, veteran status, or sexual orientation/gender identity, or whose primary purpose is inciting hatred on the basis of these core characteristics. This can be a delicate balancing act, but if the primary purpose is to attack a protected group, the content crosses the line.
Copyright
Respect copyright. Only upload comics that you made or that you're authorized to use. This means don't upload comics you didn't make, or use content in your comics that someone else owns the copyright to, such as characters and titling, or comics made by other users, without necessary authorizations.
Threats
Things like predatory behavior, stalking, threats, harassment, intimidation, invading privacy, revealing other people's personal information, and inciting others to commit violent acts or to violate the
Terms of Service
are taken very seriously. Anyone caught doing these things may be permanently banned from Comic Connect.
Dated: July 31st, 2016